BOSTON SUNDAY GLOBE, July 23, 1978, page 45

ANTIQUES FOR TODAY

Those old toy banks: You
could have banked on them


By Virginia Bohlin
Special to The Globe

More and more people are putting their money into banks these days — old penny or "piggy" banks, that is.
They're discovering that the little toy banks, given to children years ago to help teach them thrift, sometimes can provide bigger dividends than money in real banks.
| | |
| --- | --- |
| | "Tammany' is one of the most common mechanical banks as it was made from the mid-1870's into the 1920s. Yet this bank, depicting a dishonest politician, who pockets coins while nodding thanks, sells today anywhere from $100 to $300, depending on condition. |
For example, little banks in the forms of animals that used to sell for a nickel or dime around the turn-of-the-century are now worth $50 and more. Mechanical banks that cost 50 to 75 cents in the late 1800s and early 1900s today are commanding in the hundreds of dollars.
Prices of these banks, that were so commonplace in their day, climbed gradually during the first half of this century, but after World War II they really took off.
What has happened to the William Tell, one of the nicest of shooting banks, is typical of what has happened price-wise to these erstwhile playthings which are so prized today by collectors.
The William Tell mechanical bank, which has the apple fall from the little boy's head, deposit a penny in the castle and ring a bell just by pressing the marksman's foot, sold for under $1 when it first came out in the 1890's. After World War II it had climbed in price to around $16. By 1952 it was selling for $25. Three years later for $75; by 1969 it was commanding as much as $120 and today collectors are paying as much as $300 for a William Tell bank.
Even so, that's petty cash compared to the prices paid for some old banks.
Just last month in the Art and Antiques Weekly of the Newtown Bee, published in Connecticut, a Virginia collector ran a "Wanted: Mechanical Banks" advertisement in which he offered to pay $15,000 for the cast-iron bank, called "Moonface."
Actually it's not unusual for a very rare bank to command a five-figure price.
But that those figures shouldn't discourage anyone who is interested in getting started in this area of collecting. There are still many banks that can be bought for small sums, some even for under $10.
Generally speaking, the two kinds of cast iron banks that are being collected today are the mechanical and the still banks. The mechanicals are activated by the drop of a coin whereas the still bank does not have any moving parts. The cast iron banks sought by collectors date from the 1870s until around 1910.
Before John Hall of Watertown patented his "toy safe" in 1869, which was manufactured in the 1870s by the J. & E. Stevens Co. of Cromwell, Conn., their coin banks.
But, instead of cast iron, they were made of earthenware, glass and tin. However, few of these have survived and those that have are mostly in museum collections today.
One of the reasons old banks are so intriguing is that there is such a variety of forms that one can collect; animals, people, houses, buildings, furniture, birds, bells, vehicles, caricatures, safes, ferris wheels, music boxes. You name it, and you'll find it's probably been fashioned into a bank.
Some people collect in just one category. Others like to search for as many forms as they can find.
The person who has what is probably the finest collection of coin banks in the world is Edwin H. Mosler Jr. of New York, the retired chairman of the Mosler Safe Co. and great-grandson of the founder. He says that although he has been collecting for more than 25 years there are still at least three great banks that he has not been able to purchase as yet. They are The Preacher in the Pulpit, The Old Woman In A Shoe and The Japanese Ball Tosser.
The last, manufactured in the late 1880's in New Bedford by The Weeden Manufacturing Co., is extremely rare. But the bank that is considered to be the rarest and most desirable of all mechanical banks, Freedman's Bank, is in Mosler's collection.
Only a handful of Freedman banks have been uncovered over the years and only one can be seen by the public, that at the Perelman Antique Toy Museum in Philadelphia.
This bank is so rare because it was manufactured for only about five years, from 1878 to 1883, and it was the only bank that Jerome B Secor of Bridgeport, Conn., a sewing machine manufacturer, made.
Another reason it is so prized is because of its superb mechanism. First you wind it up with a key. Then you place a coin on the wooden table and press a lever on the side. The smiling Freedman in his cloth suit and pussycat bow tie, slides the penny into the bank's opening with his left hand while at the same time he raises his right arm and arrogantly thumbs his nose while nodding his head.
As Carole Rogers, author of "Penny Banks: A History and a Handbook," a Dutton Paperback points out: "There are two criteria that determine the value of a particular mechanical bank to a collector. Its action and its rarity."
Freedman's Bank combines both action and rarity.
The ideal, of course, is to buy banks in mint condition, that is, with no missing or replaced parts and with original paint, Rogers explains.
"As a practical matter that is not always possible. A bank that has been repaired, even if a part has been replaced, does not lose all its value if the work was carefully done. A bank that has been repainted is usually a bad investment.
In her book, an indispensable guide written especially for collectors, Rogers gives guideposts for determining whether that old bank is really old, or whether it is a recast., a reproduction or a fake, that is, a mechanical toy that may have been converted into a mechanical bank.
If you have limited funds, you probably would do better to collect still banks. Not only would you have a wider range of items from which to choose but also the prices for still banks are lower.
However, still bank collectors, like mechanical bank collectors, must be wary of reproductions, warns Rogers.
"Many of the reproductions are sold openly as such. Others are occasionally passed off as originals."
The same criteria that distinguish genuine mechanical banks from the reproduced banks also apply to still banks, she points out.
"The old castings were excellent. The detail is clear and sharp. The pieces fit together tightly. The old banks feel smooth and satiny. The reproductions on the other hand, have a rough and pebbly surface. The details are blurred and the pieces fit together improperly."
Besides "Penny Banks," the first book to give both the history of the subject and to illustrate it with more than 100 halftones and more than 30 color subjects, other must reading for anyone interested in collecting banks includes Hubert B. Whiting's "Old Iron Still Banks" and F. H. Griffith's "Mechanical Banks."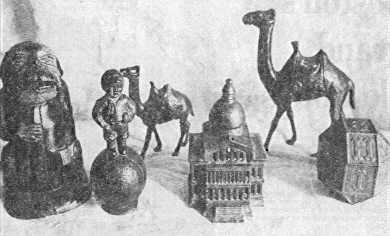 Cast-iron still banks, designed for children, were sold in general
stores in the late 19th and early 20th centuries for under $. But
prices since then have skyrocketed as can be seen from the tags
on these old banks from the Bournedale Country Store, Herring
Pond Rd., Bourne. Left to right, a caricature of Gen, Benjamin F.
Butler, about $600; baseball player, about $100; camel, $75;
Massachusetts State House, around $500; large camel, $150;
and rare alphabet bank, about $700.
(Globe Photo by Paul Connell)

---




Some people put their money