HOBBIES — The Magazine For Collectors — August, 1978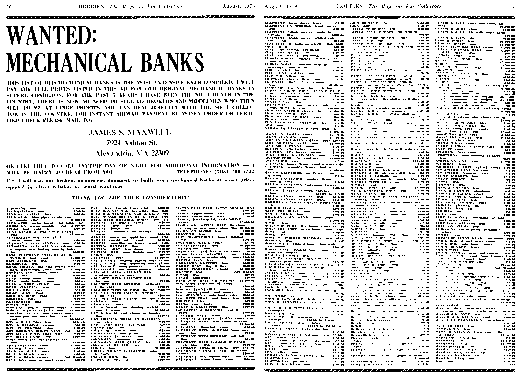 WANTED: MECHANICAL BANKS
THIS LIST OF OLD MECHANICAL BANKS IS THE MOST EXTENSIVE EVER COMPILED. I WILL PAY THE FULL PRICES LISTED IN THIS AD FOR OLD ORIGINAL MECHANICAL BANKS IN SUPERB CONDITION. FOR THE PAST 7 YEARS I HAVE BEEN THE NO. 1 BUYER IN THE COUNTRY. THERE IS NOW NO NEED TO SELL TO BROKERS AND MIDDLEMEN WHO THEN SELL TO ME AT LARGE PROFITS. YOU CAN DEAL DIRECTLY WITH THE NO. 1 COLLECTOR IN THE COUNTRY. FOR INSTANT AIRMAIL PAYMENT BY MONEY ORDER OR CERTIFIED CHECK PLEASE MAIL TO:
JAMES S. MAXWELL
7924 Ashton St.
Alexandria, VA 22309
OR FEEL FREE TO CALL ANYTIME DAY OR NIGHT FOR ADDITIONAL INFORMATION — I WILL BE HAPPY TO HEAR FROM YOU. TELEPHONE: (703) 780-5722
P.S. I will also buy broken, incomplete, damaged, or badly worn mechanical banks at lesser prices equated in direct relation to actual condition.
THANK YOU FOR YOUR CONSIDERATION!
ACROBATS, (iron) $300.00
AFGHANISTAN (iron) $200.00
AFRICAN NATIVE (tin) $400.00
ALLIGATOR (blow-pipe) (grabs coin in mouth) (tin) $1,000.00
ALLIGATOR (spring jawed) (pot metal) $50.00
AMERICAN (sewing machine) (iron) $1000.00
ATLAS (lead, wood, etc.) $200
AUNT DINAH & THE GOOD FAIRY (lead) $5,000.00
AUSTRALIAN WILLIAM TELL (brass, wood, tin) $300.00
AUTOMATIC COIN SAVINGS
(strong man in leopard skin holding man by hair) (tin) $500.00
BABY ELEPHANT UNLOCKS AT 10 O'CLOCK (lead, wood) $1,000.00
BAD ACCIDENT (iron) $150.00
BAMBULA (iron) $100.00
BANK TELLER (tall man behind three sided lattice-work grill) (iron) $5,000.00
BARKING DOG (wood, steel) $300.00
BEAR (tin) $300.00
BEAR (surly bruin) (iron) $50.00
BEAR & TREE STUMP (iron) $50.00
BEAR STANDING (IRON) $75.00
BILL-E-GRIN (iron) $75.00
BILLY GOAT (iron) $100.00
BIRD ON ROOF (iron) $150.00
BLACKSMITH (lead) $1,000.00
BONZO (tin) $500.00
BOW-ERY (iron w. wooden works) $5,000.00
BOWLING ALLEY (ball knocks down wooden pins and rings bell)
(iron & wood) $5000.00
BOY & BULL DOG (iron) $150.00
BOY & BULLDOG (brass) $50.00
BOY ON TRAPEZE (iron) $100.00
BOY ROBBING BIRD'S NEST (iron) $150.00
BOY SCOUT CAMP (iron) $200.00
BOYS STEALING WATERMELONS (iron) $100.00
BREADWINNERS (iron) $2,000.00
BRITISH LION (tin) $300.00
BUCKING MULE (iron) $200.00
BULL & BEAR (iron) $300.00
BULL & BEAR (brass ) Not Wanted
BULL DOG (coin on nose) (iron) $50.00
BULL DOG (English type) (tin) $300.00
BULL DOD SAVINGS (coin on tongue) $50.00
BULL TOSSES BOY IN WELL (brass) $200.00
BULL WITH MOVABLE HORNS (iron) $75.00
BUREAU (Freedman's) (wood) $150.00
BUREAU (Ideal) (iron) $200.00
BUREAU (Ideal) (tin) $100.00
BUREAU (Lewando's toy savings) (wood) $200.00
BUREAU (Serrill pat. appld for) (wood) $250.00
BUREAU (Serrill pat.) (wood) $100.00
BUREAU (stencilling on front) (wood) $100.00
BUTTING BUFFALO (iron) $300.00
BUTTING GOAT (tree stump) $100.00
BUTTING RAM (man thumbs nose) $700.00
CABIN (iron) $50.00
CALAMITY (iron) $1,000.00
CALLED OUT (original painted iron) $2,000.00
CALLED OUT (orig. unpainted iron) $1,000.00
CALLED OUT (brass pattern) $1,000.00
CALLED OUT (lead master pattern) $500.00
CALUMET WITH CALUMET KID (cardboard & tin can) $25.00
CALUMET WITH CALUMET KID (tin can) $75.00
CALUMET WITH SOLDIER (cardboard & tin can) $200.00
CALUMET WITH SOLDIER (tin can) $350.00
CALUMET WITH SAILOR (cardboard & tin can) $200.00
CALUMET WITH SAILOR (tin can) $350.00
CAMERA (IRON) $1,000.00
CARNIVAL (iron) $300.00
CAT & MOUSE (cat standing upright) (iron & brass) $1,000.00
CAT & MOUSE (cat stands on hands) (iron) $200.00
CAT CHASING MOUSE IN BUILDING (tin, etc.) $150.00
CAT (spring jawed) (pot metal) $50.00
CHANDLERS (iron) $75.00
CHIEF BIG MOON (iron) $125.00
CHIMPANZEE (iron & tin) $250.00
CHINAMAN IN BOAT (lead) $3,000.00
CHINAMAN (reclining) (iron) $300.00
CHINAMAN WITH QUEUE (tin) $500.00
CHOCOLAT MEINER (tin) $20.00
CIRCUS (iron) $1,000.00
CIRCUS TICKET COLLECTOR (man at barrel) $150.00
CLEVER DICK (tin) $300.00
CLOWN & DOG (tin) $500.00
CLOWN BUST WITH ACORN SHAPED HAT (iron) $500.00
CLOWN (black-faced) (tin) $100.00
CLOWN (white-faced) (tin) $5.00
CLOWN, HARLEQUIN, COLUMBINE (iron) $7,000.00
CLOWN ON LATTICE BASE (tin clown w. tray on iron base) (does flip) $2,000.00
CLOWN ON GLOBE (IRON) $100.00
COASTING (iron) $2,000.00
COIN REGISTERING (domed building) (iron) $100.00
COLUMBIA MAGIC (iron) $35.00
CONFECTIONERY (iron) $1,000.00
CREEDMOOR (iron) $50.00
CRESCENT CASH REGISTER (iron) $50.00
CROSS-LEGGED MINSTREL (tin) $200.00
CUPOLA (man in circular bldg.) (iron) $350.00
DAPPER DAN (tin) $75.00
DARKTOWN BATTERY (iron) $150.00
DARKEY BUST (tiny & tin) $350.00
DARKEY FISHERMAN (lead) $4,000.00
DENTIST (iron) Not Wanted
DINAH (iron) $50.00
DINAH (aluminum) $30.00
DING DONG BELL (tin wind-up) $2,000.00
DOG GOES INTO HOUSE (lead & brass) $300.00
DOG ON TURNTABLE (iron) $50.00
DOG (spring jawed) (pot metal) $50.00
DOG STANDING (nods head) (tin) $500.00
DOG WITH TRAY (oval base) (iron) $300.00
DROSTE'S (tin) $35.00
DUCKS (two) (lead) $200.00
EAGLE & EAGLETTES (iron) $100.00
EDUCATION & ECONOMY (iron & paper) $100.00
ELECTRIC SAFE (steel) $20.00
ELEPHANT & THREE CLOWNS (iron) $150.00
ELEPHANT BABY (with clown at table) (lead) $1,000.00
ELEPHANT (Hannibal) (iron) $100.00
ELEPHANT WITH HOWDAH (man pops out) (iron) $75.00
ELEPHANT WITH HOWDAH (pull tail) (iron) $35.00
ELEPHANT WITH LOCKED HOWDAH (oval base) (iron) $100.00
ELEPHANT (Jumbo on wheels) (iron) $125.00
ELEPHANT ("Light of Asia" on wheels) (iron) $200.00
ELEPHANT (safe deposit bank) (tin) $1,200.00
ELEPHANT (Royal Trick) (tin) $500.00
ELEPHANT (three stars) (iron) $75.00
ELEPHANT ON WHEELS (trunk moves) (iron) $100.00
ELEPHANT (trunk moves) (made in Canada) (iron) $200.00
ELEPHANT (trunk moves) (raised coin slot) (iron) $10.00
ELEPHANT (w. tusks on wheels) (iron) $250.00
FACE (wood) $50.00
FEED THE GOOSE (pot metal) $10.00
FEED THE KITTY (iron) $150.00
FEED THE KITTY (pot metal) $5.00
FERRIS WHEEL (marked "Bowen's Pat.") (iron & tin) $400.00
FERRIS WHEEL (smaller with no markings) (iron & tin) $350.00
FIRE ALARM (tin) $100.00
FIVE CENT ADDING (iron) $75.00
FLIP THE FROG (tin) $400.00
FOOTBALL (boy & shed) (iron) $350.00
FOOTBALL (darky & watermelon) (iron) $5,000.00
FOOTBALL (iron figure, heavy tin base) $15.00
FORTUNE-HORSE RACE SAVINGS BANK (tin) (Pat. Oct. 5, 1897) $1,000.00
FORTUNE TELLER SAFE (iron) $50.00
FORTUNE WHEEL (tin) $200.00
FORTY-NINER (iron) $150.00
FREEDMAN'S (wood, pewter, cloth, etc.) (man sitting at desk) $10,000.00
FROG ON ARCHED TRACK (tin) $1,000.00
FROG ON ROCK (iron) $50.00
FROG ON ROUND BASE (iron) $50.00
FROGS (two) (iron) $75.00
FUN PRODUCING SAVINGS (tin) $50.00
GEM (iron) $75.00
GERMANIA EXCHANGE (iron, lead, tin) $1,000.00
GIANT STANDING (iron) $1,500.00
GIRL IN VICTORIAN CHAIR (iron) $300.00
GIRL SKIPPING ROPE (iron) $1,500.00
GIVE ME A PENNY (wood) $250.00
GLUTTON (lifts turkey) (iron) $125.00
GLUTTON (lifts turkey) (brass) $100.00
GOAT, FROG, & OLD MAN (iron) $400.00
GRASSHOPPER (tin wind-up) $2,000.00
GRENADIER (iron) $75.00
GUESSING (man's figure) (lead & iron) $350.00
GUESSING (woman's figure ) (lead & iron) $2,000.00
HALL'S EXCELSIOR (no figure) (iron & wood) $10.00
HALL'S EXCELSIOR (monkey figure) (iron & wood) $15.00
HALL'S EXCELSIOR (policeman figure) (iron & wood) $100.00
HALL'S LILLIPUT (several varieties) (iron) $35.00 to $75.00
HALL'S YANKEE NOTION (iron) $500.00
HALL'S YANKEE NOTION (brass) $350.00
HARDWIG & VOGEL CANDY DISPENSER (tin) $100.00
HAROLD LLOYD (tin) $500.00
HELP THE BLIND (iron) $300.00
HEN & CHICK (iron) $200.00
HILLMAN COIN BANK (wood, glass, iron) $2,000.00
HINDU (iron) $100.00
HOLD THE FORT (five holes) (iron) $375.00
HOLD THE FORT (seven holes) (iron) $350.00
HOME (iron) $100.00
HOME (tin) $20.00
HOME W. DORMER WINDOWS (iron) $110.00
HOOP-LA (iron) $75.00
HORSE RACE (flanged base) (iron with tin horses) $300.00
HORSE RACE (straight base) (iron with tin horses) $325.00
HUMPTY DUMPTY (iron) $50.00
HUNTLEY PALMERS BISCUIT TIN (drawer pulls out) $100.00
I ALWAYS DID 'SPISE A MULE (iron) $75.00
I ALWAYS DID 'SPISE A MULE (iron) (jockey) $75.00
INDIAN & BEAR (brown bear) (iron) $125.00
INDIAN & BEAR (white bear) (iron) $200.00
INDIAN BUST (black face with headdress) (aluminum) $500.00
INITIATING FIRST DEGREE (iron) $1,000.00
JACK ON ROOF (iron) $150.00
JAPANESE BALL TOSSER (tin wind-up) $5,000.00
JOE SOCKO (tin) $50.00
JOHN BULL'S MONEY BOX (iron) $1,500.00
JOHN R. JENNINGS MONEY BOX (wood) $100.00
JOLLY BLACK WITH FEZ HAT (aluminum) $150.00
JOLLY JOE ( tin) $50.00
JOLLY NIGGER (aluminum) (various varieties) $10.00 to $30.00 each.
JOLLY NIGGER (iron) (various varieties) $20.00 to $50.00 each
JONAH & WHALE (rectangular base) (iron) $150.00
JONAH & WHALE (footed base) (iron) $7,000.00
KEY (World's Fair) (aluminum) $75.00
KEY (Golden Gate Expo.) (iron) $150.00
KICK INN (paper on wood) $50.00
KILTIE (iron) $150.00
LEAP FROG (iron) $150.00
LEHMANN LONDON TOWER (tin) $300.00
LIGHTHOUSE (iron) $100.00
LIGHTHOUSE (pot metal) $25.00
LION & MONKEYS (iron) $100.00
LION HUNTER (iron) $350.00
LION (tin) $300.00
LITTLE HIGH HAT (iron) $100.00
LITTLE JACK HORNER (tin wind-up) $5,000.00
LITTLE JOCKO MUSICAL (tin) $350.00
LITTLE JOE (iron) $20.00
LITTLE MOE (tips hat) (iron) $100.00
LONG MAY IT WAVE (iron & wood) $100.00
LOST DOG (iron) $150.00
LUCKY WHEEL (tin) $65.00
MAGIC MAN (iron) $200.00
MAGICIAN (iron) $100.00
MAGIC SAFE (iron) $100.00
MAGIC SAFE (tin) $35.00
MAGIE (tin) $500.00
MAMA KATZENJAMMER (1930's) (iron) $100.00
MAMA KATZENJAMMER (1905-08) (iron) (dark blue dress painted to neck) $500.00
MAMA KATZENJAMMER (1905-08) (iron) (low cut dress w white fringe) $1,000.00
MAMMY & CHILD (iron) $200.00
MAN IN CHAIR WITH DOG NEAR FEET (wood) $500.00
MAN ON CHIMNEY (iron) $150.00
MAN STANDING WEARING TOP HAT (wood) $200.00
MASON ( iron) $150.00
MEMORIAL LIBERTY BELL (iron) $65.00
MERRY-GO-ROUND (mechanical) $2,000.00
MERRY-GO-ROUND (semi-mechanical) (iron) Not Wanted
METROPOLITAN (iron) $100.00
MICKEY MOUSE WITH ACCORDIAN (tin) $1,000.00
MIKADO (iron) $1,000.00
MILKING COW (iron) Not Wanted
MINSTREL (tin) $50.00
MODEL RAILROAD DRINK DISPENSER (tin) $100.00
MODEL RAILROAD STAMP DISPENSER (tin) $100.00
MODEL RAILROAD TICKET DISPENSER (tin) $100.00
MODEL SAVINGS (tin) $300.00
MOODY & SANKY (iron & paper) $150.00
MOONFACE (iron) $15,000.00
MOONFACE (tin) $400.00
MOONFACE (brass) $3,500.00
MONKEY & COCONUT (iron) $150.00
MONKEY & ORGAN GRINDER (iron) $50.00
MONKEY & PARROT (tin) $100.00
MONKEY (drops coin in stomach) (iron) $350.00
MONKEY WITH TRAY (tin) $100.00
MOSQUE (iron) $75.00
MOTPR (trolly car) (iron) $1,000.00
MULE ENTERING BARN (iron) $100.00
MUSIC BANK (tin) $700.00
MUSICAL CHURCH WITH ROTATING TOWER (wood) $200.00
MUSICAL SAVINGS (Regina music box) (wood & tin) $1,200.00
MUSICAL SAVINGS (tin) $400.00
MUSICAL SAVINGS (wood easel) $500.00
MUSICAL SAVINGS (wood house) $500.00
NATIONAL (iron) $100.00
NEW (lever in center) (iron) $200.00
NEW (lever on side) (iron) $75.00
NEW CREEDMORE (iron) $50.00
NORTH POLE (iron) $1,000.00
NOVELTY (iron) $65.00
NOVELTY (Johnson's Pat.) (iron) $125.00
OCTAGONAL FORT (iron) $300.00
OLD WOMAN IN SHOE (iron) $10,000.00
ORGAN (cat & dog) (iron) $75.00
ORGAN (boy & girl) (iron) $75.00
ORGAN (miniature) (iron) $100.00
ORGAN (medium) (iron) $75.00
ORGAN GRINDER PERFORMING BEAR (iron) $250.00
OWL (slot in book) (iron) $35.00
OWL (slot in head) (iron) $75.00
OWL (turns head) (iron) $50.00
PADDY & PIG (iron) $200.00
PANORAMA (iron) $350.00
PASCAL (tin) $75.00
PATRONIZE THE BLINDMAN (iron) $400.00
PEGLEG BEGAR (iron) $150.00
PELICAN WITH MAN THUMBING NOSE (iron) $100.00
PELICAN WITH MAMMY (iron) $100.00
PELICAN WITH ARAB (iron) $120.00
PELICAN WITH RABBIT (iron) $240.00
PERFECTION REGISTERING (girl at blackboard) (iron) $1,000.00
PIANO (old conversion to musical) (iron) $200.00
PIANO (modern conversion to musical) (iron) $150.00
PIANO (still version) (iron) $100.00
PIG IN HIGH CHAIR (iron) $100.00
PISTOL (iron) $200.00
PISTOL (tin) $150.00
POPEYE KNOCKOUT (tin) $50.00
POSTMAN (English) (tin) $50.00
PREACHER IN PULPIT (iron) $5,000.00
PRESTON (1930's house) (iron & sheet metal) $100.00
PRESTO (penny changes to quarter) (iron) $1,000.00
PRESTO (small building with drawer (iron) $20.00
PRESTO (mouse on roof) ( paper on wood) $1,000.00
PROFESSOR PUG FROG (iron) $500.00
PUMP & BUCKET (iron) $120.00
PUNCH & JUDY (cast iron front, tin back) $1,200.00
PUNCH & JUDY (iron) $100.00
PUNCH & JUDY (tin with beach scene) $20.00
PUNCH & JUDY (TIN) $500.00
PUSS & BOOTS (iron) $5,000.00
PUSS IN BOOTS (iron) $5,000.00
QUEEN VICTORIA BUST (brass) $1,000.00
QUEEN VICTORIA BUST (iron) $2,000.00
RABBIT (large) (iron) $85.00
RABBIT (small) (iron) $50.00
RED RIDING HOOD (iron) $2,000.00
RIVAL (iron) $3,000.00
ROBOT (aluminum) $200.00
ROLLER SKATING (iron) $1,000.00
ROOSTER (iron) $35.00
SAFETY LOCOMOTIVE (iron) $50.00
SAILOR FACE (tin) $100.00
SAILOR SALUTING (tin) $300.00
SAMBO (iron) $100.00
SAM SEGAL'S AIM TO SAVE TARGET BANK (iron) $1,000.00
SANTA CLAUS (iron) $125.00
SAVO (round drum) (tin) $15.00
SAVO (rectangular with soldiers) (tin) $50.00
SAVO (rectangular with children) (tin) $100.00
SAVO (rectangular with lines) (tin) $50.00
SAVO (round with children) (tin) $50.00
SCHLEY BOTTLING UP CERVERA (iron) $1,000.00
SCOTCHMAN (tin) $75.00
SEEK HIM FRISK (dog chases cat up tree) (iron) $5,000.00
SENTRY (raises rifle) (tin) $200.00
SENTRY (raises bugle) (tin) $200.00
SENTRY (circa 1910) (wood) $100.00
SHOOT THE HAT (iron) $2,800.00
SHOOT THE HAT (brass) $1,000.00
SHOOT THE CHUTE (iron) $1,000.00
SIGNAL CABIN (tin) $35.00
SMYTH X-RAY (iron) $150.00
SNAKE & FROG IN POND (tin) $1,000.00
SNAP IT (iron) $40.00
SPEAKING DOG (iron) $100.00
SPORTSMAN (man shooting at bird) (iron) $400.00
SPRINGING CAT (lead) $1,000.00
SQUIRREL (lead) $50.00
SQUIRREL & TREE STUMP (iron) $120.00
STOLLWERK VENDING (tin) $25.00
STOLLWERK (Victoria) (tin) $75.00
STUMP SPEAKER (iron) $125.00
SWEET THRIFT (tin) $20.00
TABBY (iron) $75.00
TAMMANY (iron) $50.00
TANK & CANNON (iron) $65.00
TANK & CANNON (aluminum) $35.00
TARGET BUILDING (iron) $150.00
TARGET (fort & cannon) (iron) $650.00
TEDDY & BEAR (iron) $100.00
TEN CENT ADDING (iron) $100.00
THRIFTY ANIMAL (TIN) $25.00
THRIFTY TOM (tin) $75.00
TID-BITS (tin) $50.00
TIGER (tin) $300.00
TIME IS MONEY (embossing of man bent over) (iron) $700.00
TIME LOCK SAVINGS (iron) $50.00
TOBOGGAN (silver-plated Britannic) (metal) $300.00
TOMMY (iron) $400.00
TREASURE CHEST MUSIC (pot metal) $200.00
TRICK DOG (6 part base) (iron) $75.00
TRICK DOG (solid base) (iron) $50.00
TRICK DONKEY (iron) $100.00
TRICK PONY (iron) $75.00
TRICK SAVINGS (wood, end drawer) $20.00
TRICK SAVINGS (wood, front drawer) $20.00
TRICKY PIG (risque) (iron) $100.00
TRY YOUR WEIGHT (tin) $75.00
TURTLE (iron) $2,000.00
U.S. & SPAIN (iron) Not Wanted
U.S. (iron) $200.00
UNCLE REMUS (iron) $325.00
UNCLE SAM (standing figure) (iron) $100.00
UNCLE SAM BUST (iron) $75.00
UNCLE TOM (no star) (iron) $55.00
UNCLE TOM (star) (iron) $50.00
UNCLE TOM (no lapels) (iron) $50.00
UNITED STATES BANK (safe) (picture pops up) (iron) $135.00
VIENNESE SOLDIER (lead) $100.00
VILLAGE SCHOOL MASTER (tin wind-up) $5,000.00
VOLUNTEER (iron) $50.00
WATCH (dime disappears) (several varieties) (tin) $20.00 to $125.00 each
WATCH DOG SAFE (iron) $35.00
WATCH DOG SAVINGS (wood) $300.00
WEEDEN'S PLANTATION (tin wind-up) $200.00
WILLIAM TELL (iron) $100.00
WIMBLEDON (iron) $400.00
WINNER SAVINGS (horse race) (tin & glass) $3,000.00
WIRELESS (iron & tin) $15.00
WISHBONE (iron) $4,000.00
WISHBONE (brass) $2,000.00
WOODCHOPPER (iron) $150.00
WOODPECKER (1920's) (tin) $350.00
WOODPECKER (1940's) (tin) $5.00
WORLD'S BANKER (tin) $500.00
WORLD'S FAIR (iron) $110.00
ZOO (iron) $150.00