The Cabin Bank
by F.H. Griffith - HOBBIES Magazine - August, 1982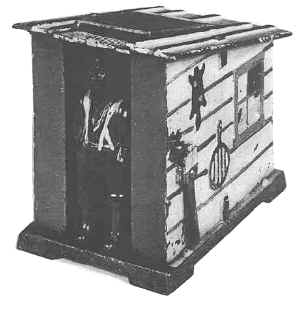 The building group of the mechanical banks includes quite a variety of different impressive types of buildings. There is, however, one mechanical bank that loosely fits into the building group that represents a simple cabin, and it is the only cabin among the mechanicals. True there is the so-called Signal Cabin Bank (tin), but it most certainly is not a cabin in any sense of the word. It has lithographed definitions of brickwork, defined windows, and other features of a well constructed building, not a cabin.
In any case, the Cabin Bank pictured herewith is No. 297 in the numerical classification and two of its interesting features are its unique action and unusual representations on the cabin itself.
The bank shown is in nice original condition. It was made by the J. and E. Stevens Company of Cromwell, Connecticut, and is shown in their catalog for the mid-1880s. This catalog has the Eagle and Eaglets on the front cover and the Cabin Bank is shown on the back cover. It is also pictured and described on page 16 of the same catalog.
The bank comes in a variety of colors. The one shown is an all over green with brown outlining of the boards on the roof, sides and back. The rectangular section on the roof is red. The white-wash brush, which also serves as the operating lever, has a white brush and copper finish handle. The animal skin and the slotted grill are black. The window is outlined in red. On the other side there is another window outlined in red. On this side of the cabin a banjo is shown and it is brown with yellow strings.
The figure standing in the doorway wears a blue shirt, yellow suspenders, and red tattered trousers. He has blue stockings and black shoes. His face is black with a red mouth and large white eyes with black pupils. The sections of the entrance on each side of the figure are red. The base of the cabin is brown.
The bank is shown ready for operation. A coin is placed in the provided spot on the roof over the head of the figure. The handle of the white-wash brush is then pulled forward causing the spring operated figure to stand on his head kicking the coin into the bank. For further operation the figure is replaced manually into position as shown in the picture.
Coins are removed from the bank by means of the conventional round Stevens coin trap.