Owl (Turns Head)
by F.H. Griffith - HOBBIES Magazine - September, 1982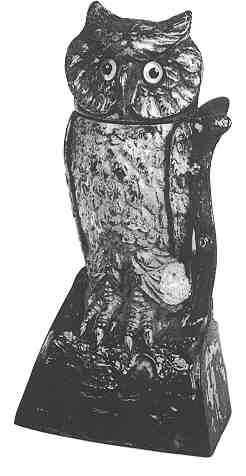 The bird category or group of the mechanical banks is not a very large one, but it does comprise some rather interesting mechanicals. In the May 1982 article we listed some of the banks in this group. Among them is the Owl (Turns Head), our present choice as No. 298 in the numerical classification. It is one of the more common of the bird group, however, it is really a fine representation of an owl. It bears mention that among the rarer banks in the group are the Bird on Roof, the Type III Pelican with the Arab, the Type IV Pelican with the Rabbit, and the Two Ducks Bank.
The bank shown is in very nice original condition and it's from the extensive collection of Wally Tudor of Chicago, Illinois. It was made by the J. & E. Stevens Company of Cromwell, Connecticut.
Unusual is the fact that the bank is covered by two patents, a design patent and a regular patent, both issued to James H. Bowen of Philadelphia, Pennsylvania. The design patent is dated September 21, 1880, and the other September 28, 1880. Interestingly, the drawing of the design patent shows just the owl on a log. The tree limb extending upward along the owl's left wing is not shown. The regular patent of September 28th shows this limb in the drawing. As a matter of fact, there are three drawings of the owl in this patent.
The operation of the bank is simple, but effective. A coin is placed at the top of the branch. The operating lever in the rear is depressed causing the owl's head to turn counter clockwise and thereby allowing the coin to drop inside the owl itself. Bowen explains in the patent that he wanted to achieve the effect of the owl discovering the existence of a coin at the side of its head and reaching for it. The head then quickly returning to position, on releasing the lever, creating the effect that the owl apparently swallows the coin. Coins are removed by means of a conventional round Stevens trap in the base plate.
The colors of the bank are as follows: The owl is an all over tan-khaki with dark brown highlighting of the feathers. The log and limb are brown with a darker brown bark. In the back there is representation of green foliage at the bottom and also at the top of the limb. Each end of the bottom log is yellow with brown age lines. The bank shown has yellow glass eyes with black pupils. Early versions of this bank have larger glass eyes with large black pupils and brown with yellow lined irises. And, by the way, on the front of the log there is a little green and a little yellow on small stump pieces.
On the base plate is inscribed 'PATD SEPT 21 & 28TH 1880.'