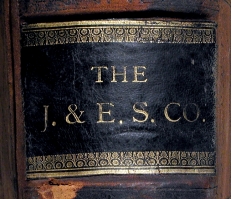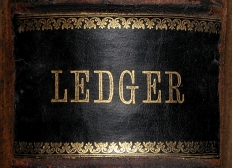 J. & E. Stevens Co.
Accounting Ledgers
1874 — 1928
In a continuing effort to preserve mechanical bank history and heritage, select information from J. & E. Stevens Company employee pay and financial records has been compiled in this booklet.

The text was transcribed by Bill and Wendy Jones from the cursive handwriting in the original company ledgers, a total of 3585 accounts (subject to error, best guess, as found). Dollar amounts are totals for the accounts as shown on the pages.

Some of the ledgers are quite large (16" x 12" x 3", 15-1/2 lbs, 800+ pages). Each has listings for expenses, sales, receipts, tools, prompt payment discounts, freight discounts, dividends, royalties, bills payable, interest, insurance, labor, raw material, inventory (real estate, horses and wagons, office fixtures, patents, patterns, stock), profit & loss, etc., for between two and six years.
The J. & E Stevens Company specialized in the manufacture of cast iron toys, including mechanical and still banks, cap pistols, trains, and wheeled horse drawn vehicles.

Incorporated in 1869 with capitol stock valued at $140000, the J. &. E. Stevens Company listed John Stevens as president, Edward Coe as treasurer and William Hulbert as secretary and superintendent.

On March 7th of 1874 The Connecticut Valley Advertiser, said that the J. & E. Stevens Company was "the only one in the country which makes the production of Iron Toys a specialty and the most extensive probably in the world in variety and extent of its manufacture in this line."